INDY CAR2/CART CARSETS
Please use this form for submitting Indy Car 2 carsets. It was created by Robin Tice. GET FORM .
If you would like to submit carsets, please submit them with the above form to Chas Bornemann.
Be sure to indicate whether your carset is an original or a modification. If it's a modification, identify your source. If you see a carset on this page that you believe is yours, and you do not want it distributed on this site, please let me know immediately and I will remove it.

2000 CART Carset by Tom Smith. Carset based on the first race from Homestead.
April 4, 2000
2000 IRL Carset by Jeff Schueler. IRL carset based on the IRL race at Orlando on 1-29-2000
February 10, 2000
1999 Indy 500 Carset by Steve Kilsdonk [388k]. Complete 40 car IRL carset for the 1999 rendition of the Indianapolis 500. Includes special Drivers2.txt files for qualifying and for the race.
August 17, 1999
2000 CART/IRL Carset by Jeff Schueler [324k]. A combined Cart/IRL carset based on events that are supposed to occur into the next year.
August 10, 1999
1999 CART Carset by Tom Smith [332k]. 1999 Cart carset NOW complete through the Nazareth race.
May 10, 1999
1999 IRL Carset by Steve Kilsdonk [392k]. This 40 car carset contains all cars from Orlando and Phoenix.
April 5, 1999
1999 IRL Carset by Jeff Schueler [282k]. Complete 1999 IRL Carset for the first event at Disney.
March 9, 1999
1998 IRL Carset by Steve Kilsdonk [1614k]. Complete 1998 IRL Carset for all the races. Steve has done a fantastic job with this carset. A must have !!!
January 9, 1999
1998 Cart RENDITION Carset by Jeff Schueler and Timo Mantynen [245k]. A re-make of Jeff's carset, converted to 4-bit rendition by Timo. Note: WILL ONLY WORK ON RENDITION ICR2/CART RACING.
July 7, 1998
1997 Carset with updated paint jobs for 1998. Taken from the best carsets on the net. Brad Allen [351k]
February 24, 1998
1996 IRL carset By Steve Kilsdonk. This uses Junae Ludvigs adjustables wings and is a very nice set for those looking for a older set with some decent paint jobs. Self extracting exe file. To use create a folder called irl96b in your cars directory and run the exe file. [351k]
Nasset - Current Winston Cup drivers done for Indy Cars. By Ben Keough, Wes Dulaney, Robby Galles, Don Mullins, Aaron Martin, Sean O'Gorman, Mike DeVantier and Nick Baltuch. [404k]
Nasset Update #2 - Updates the #88, #4, and #96. To use just run the exe file and import into paintkit. By Ben Keough [54k]
Nasset Update - Updates the #11 from black to purple and reshades the #15. To use just run the exe file and import into paintkit. By Ben Keough [41k]
1997 IRL Set - Current 1997 IRL set by Marcelo Bassino, Mark Gill, Gary Godsoe and Tim Pinion. [307k]
1997 PPG SET with new capabilities !!! - This set is a sneak preview of the things to come for ICR2. Note how the side pods are actually painted. This is the work of Joachim Boddeker, Michael Carver and Richard Montgomery [389k]
1997 PPG REYNARDS - Carset with all Reynard Chassis. Excellent 3do editing. by John Welkener Jr [358k]
1997 CART car set by Earl Ma maker of the 1996 set considered the best on the net. [357k]
1997 CART PPG car set by Michael Carver and Richard Montgomery. (331k)
Formula 1 Car Set by Robin Tice. Based on the latest cars from the Grand Prix tour. (342k)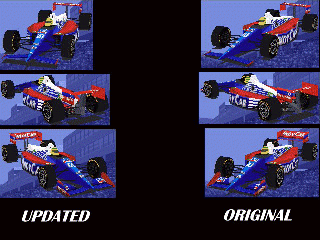 ICR2 Carset by Ivan Basso. This set includes many 3do changes. See image at right. It is based on Dennis Pruzin's 1996 set. For more info see the readme file included. (425k)
1997 CART Set - based on 1996 set by D. Pruzin. Updated by Tim Traylor. (391k)
ICR2 CAR PROJECT - Second set of the best ICR2 cars compiled by Rick Martel (435k)
40 Car Set - This is a variation of Gerhard's 40 car set and is based on the 1996 Cart/Ppg season. You must have setopt11 in order to use this set!!! [359k]
PPG96 - by Michael Carver and Richard Montgomery. [358k]
Extra Cars - A collection of 21 cars from various sources on the internet. Be sure to check the readme file for proper credit to the artists. [241 k]
For more great carsets visit

Right here at Sim Cyberworld