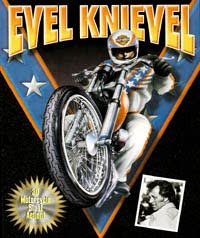 Special thanks to Dave Thayer for providing much of the info in this review.
Remember those days as a kid watching Evel do his jumps on ABC's Wide World of Sports? It seems that a few sports icons like Muhammad Ali and Evel Knievel were more than enough to keep us happy and satisfied. Oh how times have changed !!!
However, Valu-Softs Evel Knievel Sim lets us relive those days. with four basic scenarios (Butte Dirt Field, Ceasar's Palace, L.A. Colesium and Wembley Stadium). It's important to note up front that this is not a simulation. But instead a game. At each of the 4 scenarios, there are 10 levels. In order to get a chance to do the jump, you need to pop wheelies around some obstacles and pop a wheelie while standing on the motorcycle.
It is also very simple both in gameplay and structure and also very frustrating since there is no save feature for the games. So for example, if you get to level 7 and fail to negotiate all the obstactles, back to level 1 you go.
It is also important to note that each scenario only has one jump as well. That is the easy part to do. Negotiating the obstacles is the difficult (well almost difficult) part. Also, since it is a game there is no garage function or real driving skill involved. But the cost is appropriate and if you don't mind a change of pace, this game may be well to your liking.