This section of Simulator Cyberworld is about (Super) Touringcar and Sportscars/GT racing based on the racing simulations by Papyrus: Nascar Racing 1, 2, 3, 1999 and 2000. We have made every effort to create an extensive collection of cars, car templates, car shapes, utilities, add-ons, tracks, and more.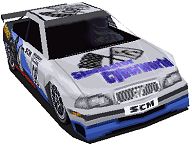 Navigation through these pages should be fairly simple: at the top of this screen you see a number of buttons. Clicking one of them will bring you to the corresponding pages. Links on those pages will either guide you to another page, view an image, or allow you to download a file.
Many people contributed to Sim Cyberworld's touringcar pages. You will find their names on the page that lists their contribution. If you have something you like to share with other touringcar sim racers, and like to do so on the popular sim racing site of Sim Cyberworld, feel free to contact us!
Do not forget to visit the webpages of Sim Cyberworld's own touringcar racing team: Sim Cyberworld Motorsports. SCM's touringcar racing team competes in the highest divisions of the most challenging touringcar offline racing leagues: The Pits Touring Car Championship (TPTCC) and the Bullrun 1000.
A big cheers to all my personal fans! It has been great to chat with you sim guys at various sim racing events. You bet I'll join another chatroom soon!
Kelly,
Sim Cyberworld Motorsports