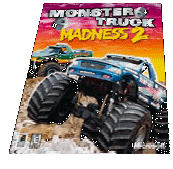 VAAAARRRRRRROOOOOOMMMMMMMM, CRRRRRRRASSSSSSSSHHHHH, Don't know which it is. It's a nice change of pace from the traditional sims like Nascar 2, Cart Racing and Formula 1, but it definately has something missing. The one question I need to ask is how can someone make a Monster Truck game and not have a head to head drag race over crushed cars? Well Microsoft has gone and done it with Monster Truck Madness 2. Even Monster Truck Madness had that feature in it.
Graphically I ran the game with a Sound Blaster Voodoo 2 3dfx card and had some problems at several tracks distinguishing between scenery and road. Now ok, I'll give them the benefit of the doubt on this this one. I do where prescription eye glasses, but I swear I had them on when I was playing. :) But when I ran one track and thought I was on the road and found myself gurgling water (couldn't tell the difference) that was enough of that track for me.
But I'm not going to go off and just slam MTM2 completely. There are some very good tracks as well and as I said earlier it is a nice change of pace from the sims (although I would not consider MTM2 a simulation by no means since you can't change setups or pit).
The game basically consists of two track types - rally and circuit. The circuit tracks that I really like (probably because I could see the circuits and race on them) were Breakneck Ridge, Scrapyard, Farmroad and Crazy98. The rally tracks I liked were Sidewinder, Tinkow Junction,and Tumbleweed Flats (long and by far my favorite).
There is a third type of track in the game called a summit rumble but it requires multi-player online to use. There are only three of these circuits available and I have no idea what they are.
Most of the other options in the game are fairly standard (sound setup, controller setup, graphics setup) with other racing games on the market today. The only thing I don't like about the controller setup is that on the joystick there is little control over the use of the buttons for acceleration/braking. The joystick (if that is your preferred method of gaming) has been setup similar to the GP2 input. Also the wheel has been setup to accept force feedback controls. There of course are also options for skill level.
Finally I think it's worth mentioning that the maximum number of opponents in the game is 7. But if you were a fan of Monster Truck Madness you will be glad to know that the AI in MTM2 run in tight packs and offer some great racing action. I think we would all like to see more trucks on the track, but as long as the 7 opponents are giving us a good race, that's good enough for me.
Overall if some of the tracks were better done this would be a dynamite game.