SPIRIT OF SPEED '37 PREVIEW

Synopsys

Wheather this is an arcade or simulation remains to be seen. Remember, however, that this IS from the company that brought us Grand Prix 2, World Circuit (Grand Prix 1), and Grand Prix Manager. This game follows the recent wave of retro games like N@50, and Grand Prix Legends ['67] by recreating the '37 GP circuit. This was the era of the start of an organised GP championship today known as F1. Little is known at this time about the game, and all the information is from a technology demo from a major graphics card company. Impressive graphics effects will be a part of this game, that is for sure.

Features


What it will feature:
Environment Mapped Bump Mapping
Famous Marques like Mercedes, Bugatti, Alfa Romeo, Audi, Napier Railton and Auto Union
Twelve real race cars
Nine racetracks including some in the USA and Europe
Newspaper reports style format like what's used in Papyrus sims
6 Litre Engines!!!
Pit Stops
Individual vehicle characteristics like tire wear, petrol & oil usage
Multiplayer, Single Race, Championship, and Testing Modes
Actual engine sounds from the real museum cars
Force Feedback

Known Tracks:

Avus, Germany a Martinsville for the GP fans out there. shaped like (==================)
Brooklands, with its steeply banked curves
Roosevelt Raceway, USA
Origional Monza Circuit, Italy
Tripoli, Libya, 8.5 mile sandy circuit



Screenshot:

Napier Railton on the Members' Banking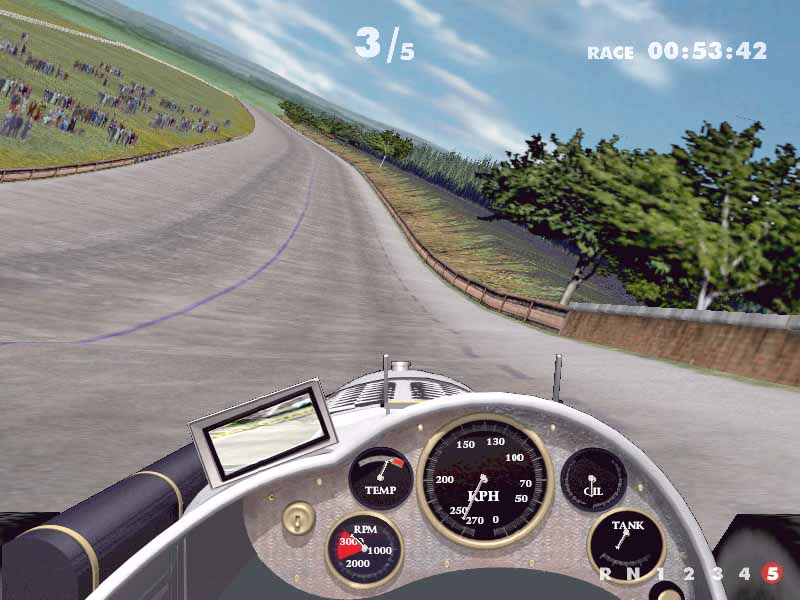 Release Date Unknown.
Spirit of Speed '37 Preview was updated September 16, 1999