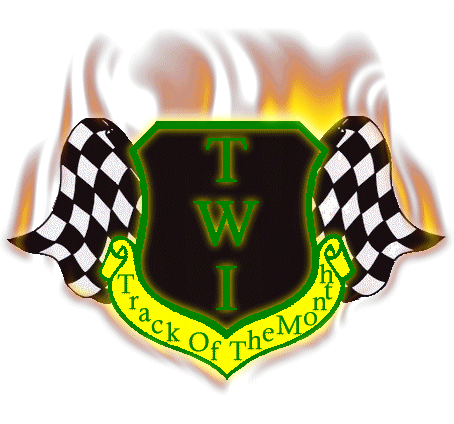 Track of The Month
Track of the Month is being run by TWI Track Editing Group. Turtle, Bugs and Tony Krist are experienced editors and know what to look for in making their selections. Track of the month is a unique contest for track editors with a few simple rules. No prizes or anything like that. Just the satisfaction of knowing your track is one of the best out there. A graphic will be provided to post on your website for winning tracks.
The track must have an installer. Any track without an already written installer for it, will be disqualified. Posting of COMPLETE DAT FILES is illegal.
Any track that has a complete dat file in the zip, will be disqualified. Your track must be sent to us in patch form, and we must be able to install it.
Tracks will be judged based on overall appearance, driveability, AI competition and completeness. This will include taking points off for not properly coloring the backgrounds on 3do objects. TWI may judge on other factors as well. So do a good job folks.
You agree to allow all tracks sent to the contest to be posted at Sim Cyberworld.
Newly edited tracks are the only ones eligible. If the track is a remake of an existing edit, that may be considered. If the track is done previously and released, it will not be allowed.
All tracks must contain your original work. A readme.txt file must accompany the track patch to give instructions on how to install and also must give additional credits if necessary.
OK,Here's the one track we got the last 2 months or so,since we only got 1 track,there will be no winner for the past.Not to mean that this track isn't worthy of Track Of The Month Honors.Actually it was pretty good,just a few things our keen eyes noticed that could have been done better and some things missed,Overall for a first time track edit,I think this team did a wonderful job.Great job guys,keep up the good work!!!
| | | | |
| --- | --- | --- | --- |
| Moab | Nascar 1999 | 0.625 | DOWNLOAD |