C2C Main Menu
Choose a Review
Dirt Track Racing Sprint Cars Review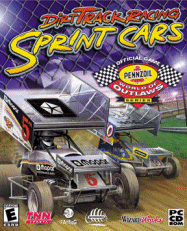 Install: When we installed DTR Sprints, we were reminded how easy the installation process was for the previously released DTR game as this one was the same. This is real important in our opinion because there is no excuse for a poorly designed or complicated install. Toss the disk in the machine and let 'er rip. The intro movie was fun to watch and after the little Ratbag dudes had their fun, it was into the game we go. Again, a quick and easy configuration of your input devices and you're ready to play. The Main Menu is easy to use. I'm going to use the Single Player mode as an example. It leads you to the next menu and here you can choose the Race and Career options, etc. From here, you can jump right into a single race at any track and choose any car you want to use. You can even choose the World of Outlaws option but more on that later. I chose a cool looking car and then scrolled through the tracks. If you have the full install of DTR, this Sprint Car game will also recognize the tracks from it and let you race them as well. A very cool idea!

After choosing a track, you can just do some Hot Laps by yourself on it to get the feel or go right into qualifying. If you qualify bad, you will end up in the slower Heats and have to work your way up by finishing in the transfer spots. Even if you qualify well, there's a draw to determine if the field is reversed or not so you won't know if you're starting up front or back in the field. Another realistic feature added to the game. Racing this game for the first time, I had a smile on my face. I was loving it! If you bobbled a bit, the cars took advantage of it and went right on by. I found it very difficult to complete a pass on the outside if not impossible. The all important "slide job" usually did the trick. Again, the way it is done in real life. You can bump the other cars some and they bump you too. In fact, one time I got out of shape, hit the outside wall and slid to the inside wall and ended up on my side. Very cool!

Here's my one complaint with the game. The World of Outlaws mode makes you choose one of the real drivers cars. There is no "player" car and you can't change the name of the driver to yourself. So who do you pick? Do you pick your favorite driver and race as him? That would mean you can't race against him. Do you pick another driver so you can possibly race side by side with your favorite driver? I would've liked to pick any car as I could in the other Single Race mode and raced ALL of the World of Outlaws drivers. If you do the Career mode, you will eventually complete all of the Series and work your way up to the World of Outlaws Series so maybe then you will have your own car and race accordingly.

Overall, the game is great and the price is half as much as most other sim games. I don't know how they do that but I'm not complaining! The graphics are very pleasing. Excellent horizons, dust kicking up from the tires, decent sound and an announcer who has something to say now and then. I've seen cars flip and get out of shape too; sometimes right in front of you and this game is fast paced so you have to make an immediate decision of what to do. All the other things you expect of a racing sim are included. Lots of tuning options, car upgrades with money you win, replays, sponsors, etc. You can even adjust your wing during a race if you need to.

We really like the World of Outlaws logos and the mention of it throughout the game by the announcer. It's a fantastic series and this is a fantastic game that captures the excitement of Sprint Car racing!

Overall the graphics, physics, and gameplay are very well designed, minus a few things here and there this game is a must have to your PC software library. I think Ratbag and everyone associatted with the making of their games are on top of the Racing heap. Where else can you get a full blown Dirt Track Racing Simulator, with the works, very eye popping graphics, accurate physics, etc...for a suggested retail price of $19.99? This is definately one of THE top Racing releases of the year and comes highly recommended. We also appreciatte the fact that Ratbag is tackling all the sims no one else seems to want to touch and has built a faithful following in the sim-community and we can only wait for the next game/sim they try to tackle.

Click here for some screen shots of Dirt Track Racing Sprint Cars.




---
Disclaimer: We are NOT responsible for any problems relating to games nor computer wise Download at your own risk. Software located within is free and may not be redistributed, reposted, or modified in ANY way without express written permission from Bugs. Use of these tracks as a display, training tool, or any other means then personal entertainment is strictly prohibited.