C2C Main Menu
Choose a Review
Road Thrills 4 in 1 Pack Review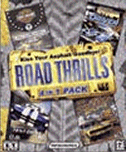 Well here's a nice addition to a racing/driving fan's library. Infrogames Road Thrills 4 in 1 Pack. It includes (for a low,low price) Dirt Track Racing, Driver, Test Drive 6, and Harley Davidson Race Across America. Infrogames could have easily gotten the suggested retail price for 3 out the 4 games. But instead they bundled all 4 for $19.99.

The ultimate thrill ride is speeding towards the PC. A robust collection of PC racing titles that includes FULL VERSIONS of Driver, Test Drive 6, Dirt Track Racing, and Harley-Davidson: Race Across America. Whether cruising the open road on a Harley, slinging mud in stock cars, going undercover as a wheelman for hire, or speeding through exotic locations in some of the finest fastest cars, Road Thrills delivers racing excitement for everyone.
First off a little information on each game.
---
Disclaimer: We are NOT responsible for any problems relating to games nor computer wise Download at your own risk. Software located within is free and may not be redistributed, reposted, or modified in ANY way without express written permission from Bugs. Use of these tracks as a display, training tool, or any other means then personal entertainment is strictly prohibited.