C2C Main Menu
Choose a Review
Nascar Racing 4 Demo Review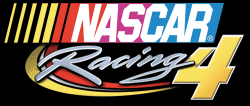 Well I've been waiting to try this since all the other sites have praised it so highly. So I finall got it and now I'll try to tell you a bit about the big 80mb download. Make sure you check out the screen shots page (link at the bottom) as there are and bunch of high quality screen shots there. Now when I first installed the demo I noticed how nice the menu backgrounds were and the ease of installation and the options menu was as always very easy to configure to my liking. Ease of setting up the game is a major plus since I was quite impatient and couldn't wait to start my engine. Off to Michigan I go. Pressing on the gas pedal oh so slightly to ease off i'm reminded of how this somehow sounds a lot like Grand Prix Legends. But anyhow I drop the gas full throttle as i'm now going into 4th gear down the frontstretch of Michigan. Now the first thing I wanted to try was the physics engine, so I dropped from 4th to 1st gear and immediately the car went into a spin, round and round I went and the smoke was eye-popping. The physics in Nascar 4 really seem to be dead on the money. I tried time and time again to hit the walls head on and NEVER flipped and everytime but once I actually drew air. Big plus since in Nascar Heat you can hit the wall and flip over and over and keep going. I think Nascar 4 will be the most advanced physics engine by far for any stock car simulator. A down side is you can only race yourself or others thru multiplayer, NO AI is included in the demo (BUMMER). Would have been nice to see if Papyrus' ai was still buggy and rather nasty or if they actually redid the ai to where we can actually drive and have a good time without having ai editors redo the ai to fix the inaccurate speeds, checkups, etc. Which I'm sure they will fix.

So after playing around I decided to go cruising to check the advanced graphics. Papyrus did a total 180 on the graphics in the Nascar 4 Demo. They are so sweet to look at. Going down the backstretch at Michigan I happened to notice rays of sunshine coming out of the clouds, WOW what realism, I'm clapping at my desk applauding Papyrus's nice new addition to the graphics while my wife and kid don't have a clue what I'm clapping at and think I need to be committed to an Mental Institution. The graphics really stand out with the exception of a few things I noticed while browsing thru some replays. Detail in graphics are very very important to me and Papy seems to have really gone out of the way on the graphics front.

I also liked while watching the replay the roof flaps that come up to keep you from flipping, another nice addition to the game. Another thing that got me was I did a cruise around Dover under cloudy conditions and WOW the clouds really really look real. Was quite impressed with this also. The BIG thing that really surprised me was I pulled about 10 donuts on the frontstretch of Dover and just went on about my business only to race around to the front stretch again and WOW AGAIN, some smoke remains were still on the track clearing off, now talk about detail people. Just to make sure it wasn't my eyes playing tricks on me I did it again and poof, yes some of the smoke was still there and was still clearing off, I stopped the car and watched in amazement. Though personally I think the graphics in Nascar Heat are a bit better in a lot of areas, Papyrus still did a lot of graphical work and it is really nice to drive around Michigan and Dover and see a REALISTIC FENCE and not just 2 gray lines sticking up with some gray lines connecting them. Also noticing as I'm sure people have seen thru the various screenshots at Papy.com the fence doesn't actually look to be just stuck on the wall,but instead is in the middle of the wall where the fencing belongs.

This game has ENORMOUS potential and probably will be the best Nascar game by FAR, though minus a few things Nascar Heat is close, but by the final version of Nascar 4 I'm positive it will not be close based on the new physics Nascar 4 implements. As Jan Kohl said in his review, this game for a demo is better than most all full versions of racing software available.

Overall I'm looking forward to Nascar 4 and personally wish February would hurry up and get here. I just hope Papyrus has left the file formats editable and not that hard to figure out. This games shelf life will be really long BUT they can only help themselves by letting the editors and painters, etc. do what they do to keep it updated and make that shelf life even greater since all the editability of previous versions of Papy Nascar sims kept the games alive until we finally got the sim we was promised a LONG time ago. Thank goodness no more Nascar 2 version whatever, we finally are getting the sim we have all hope for and just hope that majority of the buyers and wanters don't have to end up spending money for a new computer. Hopefully they will keep the requirements fairly reasonable, but somehow I don't think a lot of people will be bying Nascar 4 due to slow computers, etc. But if you have the muscle to run this new physics engine with the graphics on at a descent level, this will be a must have game for February. So tell your partners, wifes, husbands, moms, dads, kids, whomever to save that money and get you Nascar 4 for the secong year in the new Millenium. Daytona is mighty mighty close to Valentine's Day race fans if ya know what I mean.

We cannot wait for the full version of Nascar 4, or even a simple beta of it when they further put in everything to the game (*cough*HINT*hack*). This game is gonna be really sweet and a job well done and major improvement for a demo (which is better than Nascar 3 by a long shot). Now if you don't have a job go get one, beg your parents for cash, sell your sister or brother (JUST KIDDING). Somehow get the cash for this game come Daytona 500.


Click here for some screen shots of the Nascar 4 Demo.




---
Disclaimer: We are NOT responsible for any problems relating to games nor computer wise Download at your own risk. Software located within is free and may not be redistributed, reposted, or modified in ANY way without express written permission from Bugs. Use of these tracks as a display, training tool, or any other means then personal entertainment is strictly prohibited.