C2C Main Menu
Choose a Review
Road Thrills 4 in 1 Pack Review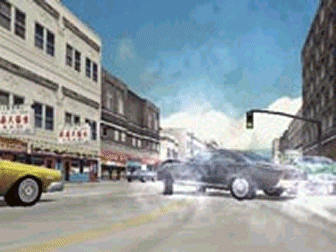 Driver
1999's award winning smash hit delivers the adrenaline charged action of a heart stopping, Hollywood style car chase, propelling you on a high speed, all out thrill ride. Experience true to life modeling of automobile physics, ultra realistic environments, cutting edge graphics, and a revolutionary cinematic replay mode. Driver delivers a pulse pounding ride through the mean streets od L.A., New York, San Francisco, and Miami. With a stable full of 70's style muscle cars, you've got all the power under the hood you need to slam you against the back of your seat.
Driver was a game I always wanted to try and never got around to buying it. Boy was I glad to see this included in the bundle. It will not dissapoint either. Running from the cops around the streets of big cities is always fun. I can pretty much say that this game is all that and more for a arcade racer with some dang good automobile physics. Graphics were a little bit sloppy at times and the draw of the objects on my machine was a bit annoying, but overall a must have for arcade racer phenatics. I had a ton of fun playing this game and outrunning the law, and the various other modes and challenges available. Highly Recommended to any racing fan.
---
Disclaimer: We are NOT responsible for any problems relating to games nor computer wise Download at your own risk. Software located within is free and may not be redistributed, reposted, or modified in ANY way without express written permission from Bugs. Use of these tracks as a display, training tool, or any other means then personal entertainment is strictly prohibited.