Road Thrills 4 in 1 Pack Review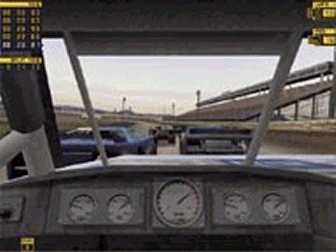 Dirt Track Racing
MY PICK AS 1999'S GAME OF THE YEAR HANDS DOWN.
Dirt Track Racing, 1999's Racing Game Of The Year as selected by Computer Games Magazine, is THE world's first authentic dirt track racing game. From qualifying to championship races, Dirt Track Racing DELIVERS all the fender bending, dog eat dog action of stock car racing on dirt. Choose between quick race and career modes, accumulate virtual prize money, upgrade and customize your cars, earn sponsors and more!
This game alone is worth $20. The best sims out there are anywhere from 40-50 bucks and have had a add-on released or a significant patch. This game at a suggested retail price of $19.99 is still a STEAL.
Physics: very very accurate
Graphics: EYE POPPING
AI: WOW
Overall: MUST HAVE
It is quite unbelievable what Ratbag did with this game and kept it under $20 (hoping other sim-gaming companies take notice) and what makes it a ultimate sim is the editability and download's available on the internet (*cough* again hoping other sim-gaming companies take notice *cough*). Hands down one of the best sims ever produced. Ratbag seems to be hitting an area or mainstream that no one else wanted to tackle. Dirt Track Racing (yeah no more racing dirt tracks on a edited N99/N3 track with Nascar physics) is simply unbelievable and very very highly recommended.

---
Disclaimer: We are NOT responsible for any problems relating to games nor computer wise Download at your own risk. Software located within is free and may not be redistributed, reposted, or modified in ANY way without express written permission from Bugs. Use of these tracks as a display, training tool, or any other means then personal entertainment is strictly prohibited.