REVIEW OF SIM PROS - SIM-RACER
by Chas Bornemann
Visit Sim Pros Online
Hardware used with product:
Relisys 17" Monitor
450mhz computer
Thrustmaster T2 Wheel
F-16 Flight Stick
A few weeks ago, I was contacted to provide Sim-Pros with a review and any comments I could offer regarding their new "SIM RACER" product. As a result Sim Pros sent me Sim Racer for a trial and all I can say is WOW ! Great product, great idea.
Sim Racer is a novel design that incorporates a comfortable racing seat into a frame that also holds the monitor, keyboard and your wheel/pedal unit. Now being an old hand at racing stockers around short tracks, this is not a true racing seat (metal and such) but it does certainly give the feel of one. And in sim racing that's more than enough for me.
The feeling of stretching out in the seat, grabbing my wheel with a monitor close by gave a sensation of the good ole days of pounding around 1/4 mile tracks. The only thing missing perhaps was the actual bump and grind itself and the feeling of g's as you get taken out to find yourself backwards in the middle of traffic. Hmmmm we'll end this flashback now :)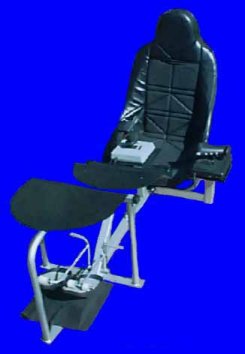 The construction on Sim Racer is anything but shabby. High quality metal tubing connecting the parts should make it durable for years. The monitor stand I found to be nearly impossible to tip (and Lord knows I tried) while a moveable keyboard stand brought the functions of the keyboard close at hand as needed while not getting in the way of racing or getting in the way of getting into and out of Sim Racer.
Now alot of us sim racers find the sliding pedals of controllers such as the T2 just a tad annoying. Short of gluing the pedal unit to the floor, many of us have struggled with this for far too long. Sim Racer cures that by attaching the pedal to it's frame (while not forcing you to drill holes, grab the glue bottle or tie your shoes to the pedal).
Overall it enhanced my enjoyment of the racing sims a good deal. And yes, I did find its faults as well. Despite it's general comfort level, the lack of padding in the seat can cause some discomfort over long runs. At least it did me. As a suggestion I would make, using padding on the bottom would greatly enhance the product.
Also I did find the instructions a tad confusing at first. After a few mistakes putting it together, it then went easy and I was racing in no time. Also, the lack of instructions in attaching the controller made the task more difficult than it needed to be.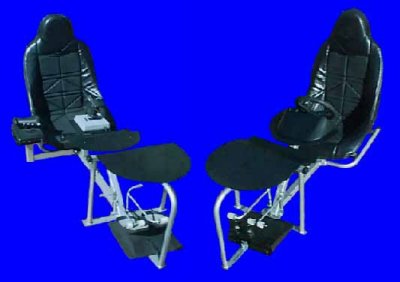 The last thing I'll rant about is the size and weight of the product. I take my hats off to the fine folks at Sim Pros for using heavy duty construction (and this is not a complaint). The completed item is quite heavy so putting it together where you intend to use it is highly recommended. Also, be prepared for it's size. Sim Racer is long enough for you to stretch your legs out to reach it's pedals. But if you are aware of this it won't be a problem. Simply plan a space large enough to contain it (closets aren't recommended for racing anyways and Sim Racer won't pack up into one either).
Sim Racer can be purchased directly from Sim Pros. Going prices on the unit vary from $125 to nearly $300. It all depends on how fancy you want your unit to be. But in the end, it's money well spent and something you can show off to your friends for quite sometime to come.