&nbsp

[an error occurred while processing this directive] Racing With Tim Navigator



Interactive

Hot Items

Hot Site





"In Memory to The Greatest-Devoted Husband,Father,and Stock Car Racer"
Picture credits go to Nascar.com


&nbsp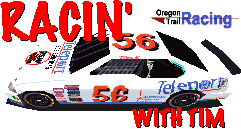 RACIN' WITH TIM---August, 1999
"BIRTH OF A SIM NATION:
A MANIFESTO FOR THE PROFESSIONAL SIMULATOR RACER"
By Tim Kellebrew
4CDs.com Columnist
OREGON TRAIL RACING
OTR Promotions

A new, but much too quiet revolution is occurring in computer gaming simulations as they interact with the exciting and growing ever popular audience of race fans, real world racers, and computer gamers mixed under the rubric of sim racing. This interaction and dialogue fueled partly by the wider availability and affordability of powerful desktop PCs and cheaper access is directing more and more race fans into the exciting community of sim racing sites and leagues for sanctioned competition, prizes, and even cash purses. Things are changing, and growing more difficult to understand---some struggle with the hobbyist paradigm while others struggle with the birth of a professional racing series in their minds. All the while the newcomer is baffled and mystified with it all as it seems no one is there to show them the way. Those who survive the mystification and link up with the sim racing community will find a source of help and support, a way to do some racing-and help to hasten the birth of a sim nation-the professional sim racing community.
The phenomenon of internet sim racing, less than five years old is suffering on several fronts where its only indictments are the lack of new faces, difficulties of use and comprehensibility to newcomers, lack of a fan base, poor media coverage, and general misunderstanding and devaluation by potential sponsors, and the overall appearance of non-professionalization. Despite this apparent status quo all is NOT hopeless-the rotting decay of existing structures often necessitates the birth of the new after all. The future is very bright indeed-if sim racers are able to see the new behind the old routine.
One would have to have been sleeping to not see that the times are a changing brothers (and those few brave sisters) who hasten the shores…Microsoft just ran a tourney for MTM2 with over $30,000 in prizes. The officially sanctioned by NASCAR online racing series (NROS_NASCAR Racing Online Series) completed its first season in live online racing last February where the eight finalists got it on live at Daytona Beach Florida. This series also presented over $30,000 in prizes and cash awards. The first NROS champion Kevin Angelbeck made the pages of Stock Car Racing and Circle Track magazines. All of this was a vision, a hope, just a few years ago. Now as it was a few years ago, we have our hopes now and some of them will come true and some of them will not. Our manifesto is to assure that it is the sim racers themselves who will have the freedom to help write, and indeed become the primary authors of this future. The true sim racers will not allow it to be dictated by business interests alone.
Call us visionaries, or madmen who emerge from the internet jungles-call us whatever you want-but I and those like me yearn for the birth of a sim nation where NROS and other series champions will be interviewed in national publications, where endorsements are paid to sim racing champions, where a touring (even virtually touring) sim racing series provides enough cash to make a living or to pay for all of the season's equipment, where all sim racers no matter what platform or type of car they race can be recognized as participating in sport-call it all crazy-but above all whether future amateur or future pros-- sim racers will still not forget to have fun! Now, we turn to the sponsors-there are already those who are involved with sim racing and these are those getting in on the ground floor of a good thing. But we are the "overman"-the child struggling to emerge-the baby about to be born-the community on its way to something else-evolving, striving, as tied up in the next paradigm of technology as all of the information age is. We want ease of use, we want more realism, and if we are pro sim racers, we want professionalization. Sponsors will have to evolve with us and they will have to help support the sport if they want our loyalty. The days of nickel and dimes will be over. Pro sim racers will no longer run sponsors on their virtual cars if they are not official sponsors-even if they like the sponsor. Pro sim racers will no longer leave them on their cars, or depicted at their web sites out of gratitude for some past token of support. Instead, sponsors will get an assigned worth for what they are doing-so they can no longer expect to run a banner at our sites forever for some "act of generosity" bestowed two years ago. To achieve this has been the exploitation of the sim racer.
Professional status seems laughable when it is superficially applied to a virtual sport. It also seems unacheiveable and distant if you're in diapers-as there is maturing to still do---but who says we are in diapers? We are ready to grow! Professional status will have to occur at the grassroots level and extend outward to all forms of sim racing as competitors organize into sanctioning bodies. Sanctioning bodies will enable more political clout and signal a shift of power away from the holders of the technological keys that turn the whole thing and back to the sim racers themselves. (NOTE: fellow visionary and sim racer Scott B. Husted has an excellent article at High Gear that also speaks about sim racing's future and the need for a sanctioning body http://www.simracingnews.com/theview . Consequently, the message is coming from all fronts!) If such a sanctioning body comes into existence, it might be important to centralize this sanctioning to all forms of sim racing in order to unify us. There will be offline, online, open wheel, stock car, dragster, dirt car, sprint car, motorcycle, sports car racers and more. In this organization will lie the death or breath of the sim racing scene. Sponsors who today are saying they will not sponsor you for cash or enough product to last a single season-are the same sponsors spending thousands of dollars a month to appear in PC gaming magazines. Their perception is that they already have you the niche sim racer-but when we recruit our own newbies as we promote the sport ourselves, train them and support them and engage in online and offline driver's schools-who will we recommend them to? Hasten the day when the potential sponsor that says "I will not pay someone to endorse or use my product" will be the freakish and anachronistic thing to say and not the other way around. Someday sim racing's biggest sites will not be used to generate incomes for others in a lopsided fashion, but will instead approach equity. Someday league sim racers will all refuse to run sponsors on their cars if they are not "real" or authentic sponsors. The day will come. Not everyone has to come with us-but I hope some of you will. Visionary and futurist talk is cheap-but sim racers have already known if this thing takes off the future looks good…very good. Buckle up baby-this ride is gonna get better!
COMING SOON: BIRTH OF A SIM NATION PARTS II and III
&nbsp
&nbsp

[an error occurred while processing this directive]






RATE THIS SITE!





Weekly Quiz

You know your racing
eh? Click here to find
out.

Warning .... this quiz
isn't for the casual
race fan.

Join our mailing list
and each week recieve
notification of the latest
updates by email.

Enter email address