&nbsp

[an error occurred while processing this directive] Racing With Tim Navigator



Interactive

Hot Items

Hot Site





"In Memory to The Greatest-Devoted Husband,Father,and Stock Car Racer"
Picture credits go to Nascar.com


&nbsp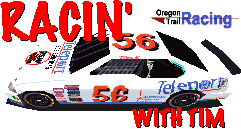 RACIN' WITH TIM---February, 1998
ESSENTIALS OF BUILDING A WINNING TEAM

by Tim Kellebrew, Oregon Trail Racing
http://www.teleport.com/~timk/otr
http://www.teleport.com/~timk/otr2.htm
&
Jerry Baker, nWo Motorsports
http:://www.buc3.barbourville.com/~jbaker


FOREWORD: Greetings fellow sim racers! Welcome to 'Racin' With Tim' a monthly column that focuses on NASCAR sim racing. This is the inaugural edition here at Simulator Cyberworld. Over the previous year, this column appeared at the SimNews feature over at the home page for Thomas Engineering--makers of the Thomas Super Wheel (TSW). Watch for the TSW2 coming soon to a store near you! TSW is also a major sponsor of Simulator Cyberworld. Collectively, the two of them are the main sponsors of this column. I also have a cosponsor in Steve Smith Autosports Publications--an outstanding publisher of "How To" books for many aspects of real racing. If you are interested in joining the ranks of real racers some day--or are already there--Steve Smith will show you how to get started AND how to get better. You can check out his many valuable works at www.ssapubl.com .

For those of you who missed my last two columns, I'm flattered. For those of you who followed its evolution over here to Sim Cyberworld--I'm impressed. TSW and all the friendly folks here thought it might be a good addition to the site. I was unable to do last month's column because I had a non-racing accident where I banged my finger and severed a tendon in my right (dominant) hand. This led to surgery and here I am, in recovery for the next ten weeks with three pins in a fracture and physical therapy to recover use of the tendon! Nevertheless, I have recovered enough to do some sim racing and to do my column here. :-) Because of this injury, I will be unable to complete the latter part of this column that I usually title "News and Rumors from the World of Sim Racing" until my recovery is complete. Still, that doesn't prevent me from at least mentioning a couple of news items.

Since I haven't been able to do a column since November's, I will mention some of the news since then. Obviously and easily the biggest news in sim racing was the launch of NROS on TEN that occurred during the second week of November. We have already been doing quite a bit of racing with OTR on TEN. In case you missed this gem of an experience you can visit their web site at www.nros.com and the TEN site for additional information at www.TEN.net . The last bit of news is encouragement to our team and news that Thomas Super Wheel's officially sponsored sim team has repeated two titles that it won last year. It was OTR's newest driver Kyle Finney this year winning the overall offline title in the ICRS (the league that sponsors the IDRS) AND the Dirt title in the IDRS. Kyle also got rookie of the year. Way to go Kyle! You've done OTR and TSW proud! (By the way the IDRS is mirrored here at Simulator Cyberworld).

Okay let's get to the column:

This month's column focuses on necessary components of a winning team. The way I look at it is sort of like a special recipe. That doesn't mean that you can 'cookbook' your way to success. What it does mean is that ALL the ingredients are needed in order to make the outcome what we are looking for. Before I discuss what I've defined as these essential ingredients, please let me introduce this month's co-author, Jerry Baker.

Jerry Baker is the CEO of nWo Motorsports---one of the most dominant sim racing teams in league competition whether it is offline or online. Collectively, the nWo team has won at least a dozen championships and recently completed over 100 SERIES wins for the season. (For the new to sim racing readers--a series win is the winner in an online race and the best scored result in an offline race). Along the way to success, the nWo Motorsports team has collected some of the finest talent anywhere and many honors. Together, the nineteen or so drivers include the likes of Bob "The King" Coon, Eddie "The Monster" Kwan, Jeremy Snapp, Scott Williams, Carl Stunden, Ted Scurlock, Dave Mills, and many, many, others. (Sorry to leave anyone out--but the nWo is full of talent and I only have so much time and fingers!)

Frankly, sim racing's 'bad boyz' are undeniably good at what they do! You mix in outstanding talent, great team support, and the intimidation factor and it is easy to see how they consistently drive to wins and whip you off the track also! Don't get caught up with their image though--they are also well known for their many kindnesses and help towards fellow sim racers.

In my preparation for this month's topic, I also drew heavily upon my experience as a member of Oregon Trail Racing (OTR). OTR supports four members and has won 25 SERIES wins this season and has won 4 championships and two rookie of the year honors. The concepts envisioned in this chapter have been observed in successful sim racing teams throughout the net. While it was not necessarily easy to label what the special ingredients were--it is plain to see that some teams have it and some don't. I am proud to be affiliated with a team that has 'it'-- some very special cohesion and support for one another. In short, these guys have become my friends. Recently, I had the pleasure of interviewing nWo CEO Jerry Baker where I asked him about the five essential ingredients of a winning team and any other comments he cared to share with our readers.

Here is the interview:

TIM: Jerry, I'm doing an article on the Five Ingredients for Building a Winning Team. I've defined these essential ingredients as:

1) Talent
2) Support
3) Leadership
4)Motivation
5)Equipment/Setups, etc.


JERRY: Okay, I'm glad to help any way that I can.

TIM: Can you tell me approximately how many members nWo has at this time?

JERRY: Tim, at this time we have 19 drivers and we may be signing a new guy. We have him on a five race deal to see how good he is and if he fits the nWo team.

TIM: How many Championships have you won to date (Nov. 26th)?

JERRY: Now if you count rookie titles we have 10 at this time.

TIM: How many titles appear to be on the immediate horizon?

JERRY: At this time that would be hard to say. I think we can hold off the attack by Oregon Trail Racing to take the IDRS pavement Championship . (They did--T.K.). As you know there are many Winter Series on the net, and I feel that at this time we could take all that we race in.

TIM: In general, are there any unique characteristics of the team?

JERRY: Yes, I feel there is definitely one. I feel that we are one of the only teams that really ACT as a team. I have many drivers that came from other teams and within the first 24 hours say they feel like they have been with this team for years. The teamwork is great and the people are wonderful.

TIM: Please list the main web sites for the team.

JERRY: You can find us at: http://www.barbourville.com/~jbaker

TIM: Focusing on the first of the essentials, let's take a look at Talent. Boy, does nWo Motorsports have a bumper crop!

JERRY:

TIM: By talent I am surely talking about drivers and driver characteristics. You can have the best setups, cars, and equipment in the sim racing world--but without talent you have nothing. Talent seems to be something that someone has AND something that can also be developed! It seems that a good team can be a wellspring for developing talent. While talent can be conceptualized as driver attributes like increased focus, ample practice time, and an 'I can do it' attitude--still, talent must transcend driver attributes to become raw abilites in terms of on the track racing performance.

JERRY: Well said.

TIM: Thanks. With that in mind...Jerry, how did you attract so much talent to the nWo stable?

JERRY: Well that is hard to say. I lucked out when I got Bob "The King" Coon. I think I was simply in the right spot at the right time. We talked and the papers were signed. Then from there, Bob knew of this driver that he said was great and wanted to know if he could ask him to join the team. I said yes, of course, and then Eddie "The Monster" Kwan became a member of the nWo Motorsports team. With two guys like that, it's hard NOT to get more good drivers wanting to sign up! I have many great drivers and I don't want to leave anyone out, but like I tell them: 'if you weren't great you wouldn't be on this team'.

TIM: Once you attract them, how do you keep them there?

JERRY: Once we sign them keeping them is no problem. I give them a team to be proud of! Guys that like each other, and we (the team) give them all the help they can stand. Look at Calvin Stunden, I watched him race week after week and I told Bob (Coon) that we needed this man because he is very good. Since Bob agreed, I asked Calvin to join our team. Now, I don't think I could get Calvin to leave--even if I shot him! (Only kidding! I would never shoot him). Still, I feel with the help he got from this team he is now one of the greatest sim racers ever. I have more stories I could tell, but we would be here all day. So as far as keeping them, it's not hard to say why they stay. They love this team and I love all of them for being part of it. I took guys with the will to win that no one wanted and now they're kicking everyone's BUTT!

TIM: Let's look at our second ingredient for a winning team, Support. It seems that winning teams have a great amount of team cohesion and support. The team is a source of encouragement when things don't go well and a positive reinforcer when things do. Support helps a driver know that he is not alone. With this in mind Jerry, how does the nWo team support each other?

JERRY: This is easy! First, we ACT like a team! We share info daily, we send words of support out to those that need it, driving tips, in short, anything that is needed and a lot of praise--such as 'GREAT job guy, on that race!'

TIM: What do YOU do to support the team?

JERRY: As the owner, I do everything I can to support the team. If I have a member that just needs someone to talk to, I will always listen. I have been known to go toe to toe with series directors when I thought, or was told by my team that something was wrong. I've caught a lot of hell from other drivers and directors, but my team comes first. I signed them so I will take care of them however I have to. At this time, I'm working on a sponsor so that maybe I can give my team something back for all they have given me.

TIM: Leadership is the third domain I want to talk about. I see team leadership as sort of the coach for the team. The leader also functions like the team midwife for the birth of talent and potential. The leader motivates, disciplines, corrects, and helps to guide the team--sometimes in everyday affairs that drivers may be too focused on testing to have to attend to or to worry about. At OTR, this isn't any single leader--instead we all have our roles and at times one person will lead and at another time someone else will. This is especially true in terms of our differing expertise. Jerry, how does leadership work on your team?

JERRY: Well, they know that I'm the 'Boss' but they also know me as Jerry. I don't like to be the boss unless I have to. There have been a few times I've had to say, 'Hey, listen to me'.

TIM: Do you do anything special as a leader for your team?

JERRY: Well I really think not with a team like mine. You don't have to do a lot. I let my team have fun. I feel you can only lead so far in sim racing--and anything more than that is SLAVERY and once you do that, you don't have a team.

TIM: Jerry, let's talk about motivation. With everything your team has accomplished, motivation must be strong. Since I work in the field of psychology, I know that motivation is extremely important to consistent behavior, learning, and successful goal attainment. You can have a lot of things on a team, but without adequate motivation achievement will be sadly lacking. In as much as motivation and perseverance is extremely important to winning teams, how does your team stay motivated?

JERRY: I think all the other teams help keep us going. They do us like they do Jeff Gordon--they tell us how bad we are and that we need to find some real talent to race with! I think this AND our will to be the best--makes it happen! The team gives it everything they have and then some.

TIM: Do you have any special techniques/procedures to help maintain the motivation, or to increase it if needed?

JERRY: I would love to say yes, but the only thing I can do to get more out of my team would be to ASK. At this point, the team is geat! I have never had to ask for anything from them and I hope I never do. If you look at our stats this year you can see why the team stays motivated. 85 (series-TK) wins as of Nov. 26th and more to come! 63 poles and 62 race related awards. Over at NROS--NWST where we're in preseason---the nWo has won all the practice races and 3 of the 4 poles. In the NWST Nascar 2 series we have won 3 races there along with 3 poles.

TIM: Certainly in the last but not least category we have the essential ingredient of Equipment/ Setups, etc. As in real racing, you can have everything else but if you don't have the car, miss the setup, it is much harder to win. Some have said that talent without equipment is worthless. With this in mind, and also so as NOT to give away any secrets--does your team have commonalities in equipment or setups? Do teammates share this information?

JERRY: Well as far as equipment we use whatever works the best for each driver. We all use the same setup--just a little bit different if that makes any sense. I have seen Bob send out a setup, then Robert sends it out and says he changed this and it works great for him, then Calvin gets it and says he did this and it is the best he ran, and so on and so on. The team sends out setups every week for everyone to use.

TIM: Are there any formulas for success in terms of recommendations to the team? For example, do you recommend one make of car over another, one type of controller, etc.?

JERRY: The only formula I have for this team is to make my drivers happy. If they are not happy, then what is the sense of doing this and asking them to win week in and week out? For all the team owners out there let your drivers be themselves! If they want a Ford and you don't care what he's driving, then let him pick what he wants! He'll be happy but if you were getting paid by Chevy, then that would be a new story. If you want him to go and buy a wheel and he likes his stick, then shut up. I think if I were to have a recommendation on equipment I would have to say go with the THOMAS SUPER WHEEL. I have been told by some very good teams that they are the best.

TIM: Well, that's it for the interview. Thank you very much for sharing your ideas. nWo Motorsports is one of the most visible and strongest competitors in sim racing. I appreciate your contributions to our sport and the standards you have set. Your talent remains a force to reckon with, and I hope that force continues for many seasons to come.

JERRY: Thank you. Glad we could help.

Well readers, that concludes this month's 'Racin' With Tim' column. We at OTR , TSW, and Sim Cyberworld hope that above all, you continue to have fun--'cause that is what sim racing is all about! In March,--we'll be doing a column on Female Sim Racers! Let's see what makes the Ladies of Sim Racing tick! In April--its a return to a technical topic--NASCAR sim shock theory--is there such a thing? In that piece we'll be tweaking some of the minds of the best sim racers on the Net to find out--what--if anything they do to tweak their shocks. Then in May its a piece on the theme of Online Sim Racing at TEN--and a return of the News and Rumors section of my column.

Well, that's it--and happy sim racing! Enjoy Daytona week! Glad to see ya here at Sim Cyberworld. Thanks everybody! :-)

Tim Kellebrew---Oregon Trail Racing #56 Teleport/TSW Pontiac

This column is not endorsed or sponsored by NASCAR or Papyrus/Sierra. These are registered trademarks. Mention of any sim racing team, organization, or cosponsors in this column does not imply endorsement by Simulator Cyberworld. The opinions expressed in this column are soley the opinions of the author and those quoted. The appearance of organizations, teams, and any sponsors mentioned herein does not necessarily imply they endorse one another--unless it is clearly stated.

Copyright, Jan. 23, 1998--Oregon Trail Racing Promotions, Inc.


&nbsp
&nbsp

[an error occurred while processing this directive]






RATE THIS SITE!





Weekly Quiz

You know your racing
eh? Click here to find
out.

Warning .... this quiz
isn't for the casual
race fan.

Join our mailing list
and each week recieve
notification of the latest
updates by email.

Enter email address