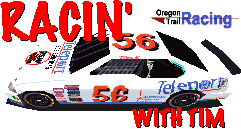 RACIN' WITH TIM---August, 1998
"TOP TEN NASCAR(TM) SIM LEAGUES"
By Tim L. Kellebrew and Alex Koziol
Oregon Trail Racing Cyber-Racing Sports Center

Welcome to this issue of Racin'With Tim (RWT). RWT is a regularly published column that appears here at Sim Cyberworld in their Sim News Section. This column is sponsored by the following sponsors of my sim racing efforts: WON.NET--The World Opponents' Network-- http://www.won.net and OTR Promotions at http://www.otrpromo.com . I would like to extend a VERY SPECIAL THANKS to Alex Koziol of Cyber-Racing Sports Center for writing the section on the Top Ten Online Leagues. Cyber Racing Sports Center is at: http://www.cyber-racing.com .
This list represents the second year in a row that I have named the Top Ten Leagues for Offline Competition. This year, I also asked an expert on the online NASCAR(TM) sim racing leagues to write a Top Ten List. That outstanding result written by Alex Koziol of Cyber-Racing Sports Center follows the offline list.
TOP TEN LISTS--Volume 2 (1998 Version)--Reprinted Here With Permission of Won.net and Sierra On-Line.


---
TOP TEN OFFLINE LEAGUES FOR NASCAR(TM) SIM RACING:
by Tim L. Kellebrew
For:
N1--NASCAR RACING (Copyright 1994) Papyrus Design Group
N2--NASCAR RACING 2 (Copyright 1996) Sierra/Papyrus

1. NASS '98: North American Simulation Series
For N1 Offline Competition: http://www.maui.net/~frelance//n1
For N2 Offline Competition: http://www.nasscar.com/n2.html
This is one of the largest, most visible offline sim racing leagues on the Net. It is very popular. It is known for stiffer levels of competition. To win here you've got to be really good! Expertly run by Tim Wortman(N2) and Glenn Brown (N1) it has three main divisions--ARCA (beginners), BGN (Intermediate), and Winsten Cup (Advanced). It features both N1 and N2 competition. The ARCA divisions stress mandatory setups. ARCA is also joystick only. The N2 league uses offline.cfg files as anticheat software. The AI strength settings here are a little bit higher than the 'easier' leagues. This is a great place to run--and you'll have plenty of competition!
2. NCAR--National Computer Auto Racers
Available only through Compuserve--Sports Simulations Forum--Go Sprtsims--Sect.14--Racing Circuits
This is one of the oldest offline sim racing leagues. It is only accessed through subscription to Compuserve--but it is well worth the subscription. NCAR is the NASCAR(TM) sim racing division at Compuserve that also features strong Formula 1, Indy Car, and even Monster Trucks sim racing. In NASCAR(TM) sim racing NCAR is an exclusive N2 league. It is run by commissioner Georg Naujoks and others. The season follows the actual racing schedule of NASCAR(TM) fairly closely. This is one of the few leagues that alters BLAP settings for the AI--effectively making the AI tougher in offline racing. This league is really fun and there are a lot of very helpful fellow racers here. There are levels for beginners and more advanced racers.
3. IGN Internet Grand National League
http://hobgoblin.tc.net/ign/welcome.htm (main page)
http://208.21.190.36/irca/irca98.htm (IGN-IRCA Division--beginner's N2 league)
This is another one of the oldest sim racing leagues on the Net. Folks here are very helpful, and I've found them to be some of the most ingenuitive of all sim racers! They have divisions for everybody in this exclusively N2 league. Beginners can start out at IRCA, or you can experience their more advanced divisions in IGN and NETCAR. They have their own online racing division at TEN. Custom calendars and carsets add to the realistic racing fun in season mode.
They have invented programs that make adjusting the season files and loading calendars easy and commonplace. Richard Scott and others run one of the best offline leagues around that has a lot for everybody! If you have a software question these are the guys to ask--they are always the pioneers in software innovation for sim racing. Do not miss running here! Watch out for Whumps!
4. SSCRA--Simulated Stock Car Racing Association
http://sscra.home.mindspring.com

What can I say about this great league? This is the official offline league sponsored by Simulator Cyberworld-- Chas Bornemann and his colleagues have a lot to offer in this league. The site features different levels of competition for the respective sims N1 and N2.
They have great carsets, custom track files that allow two lap qualifying and current season lengths for events. But the absolute crowning achievement is the fun you get to have in racing on edited (not cloned) tracks developed over by the BB&B Track Editing team. In this league you will get to run on new tracks that you may have never seen, let alone raced on before. These are not just clones of existing tracks--these are edited tracks--if you can imagine a steeper Bristol, a completely flat half a mile, a multitude of small short tracks--then you can imagine Expo Park, Lake Geneva, and Southern National. Overall, this is an A-Plus league with great leadership!
5. IDRS--Internet Dirt Racing Series
http://www.geocities.com/MotorCity/Downs/3402/idr2.htm
This is one of the most unique offline racing leagues that I know about! True, I was the first overall and late models champ here in its inaugural season back in 96--but this hasn't biased my responses at all! This league is growing. The Internet Dirt Racing Series is one of the few leagues that features a strong component of custom tracks that simulate dirt track racing. Mike Spinelli, Calvin Stunden, Robert Mitchell, Ted Scurlock, Raymond Murtha, and Kevin Nunn run one of the funnest leagues I have ever had the pleasure of running in. Custom carsets in terms of trucks, and wedge dirt late models are allowed. In this N1 and N2 league we have many custom tracks such as Buckeye, Syracuse, Mountainview, Oceanview, Eldora, and West Plains. You will have to practice and tweak your setups to run good on the dirt! You can also run Hoosiers over on the N1 side.
One of the most unique features of this league is its allowance for racers to set their own levels of AI strength. You state where you want to run at. If you qualify in the top ten of the field you are in the ballpark. Your speed against the AI in qualifying should be in the same vicinity where they are or you need to bump up the AI strength setting. If you lap the field in your race you may have raced too low. It is to your advantage to set the AI as high as you can--but these dirt track conditions may not allow AI strengths where you are used to--so these rules dovetail nicely. Races here are typically short to match Saturday Night short track or sprint car racing styles. To help offset for handling problems, the damage is turned off. Still, if you cause a yellow in the dirt division, you are asked to start at the rear of the field as per dirt rules. Don't miss this league!
6. NWST--the Northwest Simulation Tour
http://www.geocities.com/~nwst
This is a well known offline league run by Adam Hawkins (N1) and Calvin Stunden (N2) and hosted by Cyber Realm Racing. It is similar to NASS--but with lower relative AI strength settings and deliberately so. The series follows the actual NASCAR(TM) racing schedule and features advanced (Winston Cup), intermediate (ASA), and beginners (Trucks) competition. The ARCA (beginner's) division features mandatory setups but the rest of the divisions use open setups. Weather conditions mimic actual weather conditions from the real race in this currently N1 and N2 league. Team racing is encouraged here and you will find plenty of racers who make good teammates.
7.ISSRL--the International Speed Simulation Racing League http://www.issrl.com/offline/
This is a very nice looking, highly organized exclusive N2 league. It is run by Ron Westland and others. There is both a Winston Cup and Busch division. The league has some stiff competition and higher AI settings which are guaranteed to keep you on your toes and practiced up! This league also uses the offline.cfg anticheat software developed for N2. The league simulates the actual NASCAR(TM) season. At press time they are considering running a true Craftsman Trucks Division--I hope they do it because it may be the only one currently operating on the Net (last year there were several).
8. HRP--Hooterville Raceway Park
http://www.rtcol.com/HRP/index.shtml
This league, directed by Denny Guyer is well worth participating in. This leagues authentic sponsor is Gaerte Engines. It is a tough N2 league in its CUP Division with 60-100% Distance. Looks like a fun league to race in. Read the rules in this one really close and ask for help if you need it. League N2 sim racing here will be worth it. If you want to run at least some full length races in offline competition this league is for you. This is fun if you want to run races where you might need more pit strategy!
9. Winter Heats
http://simcyberworld.simplenet.com
This is an offseason N1 and N2 offline league that attracted a lot of racers last year--including the best offline racers in the world (like Bob Coon and others). It 's located at the Sim Cyberworld site during the Winter months after the conclusion of the real Winston Cup season. Visit the Sim Cyberworld URL listed just above at that time for more specificity of location.
10. World Series of Internet Short Track Series
http://www.geocities.com/MotorCity/Speedway/3795
(check this URL in February or check online appendix).
This is another offline league that runs a week or two before the leagues startup in February. Typically, it attracts some of the best drivers--and you get a chance to drive on a very unique edited track for seven straight nights. Jimmy McKinley of the United Short Track Alliance is the commissioner. It's really fun!


---
TOP TEN ONLINE NASCAR(TM) SIM LEAGUES:
by Alex Koziol
1. HAL
Hawaii Ace League
http://hal.dithots.org/
HAL was founded by Larry Holbert, Terry Adams & Brian Simpson during the closed beta test days of Hawaii. Over time the league has matured and grown into a formidable presence. The league is officially sponsored by Thomas Enterprises, makers of the TSW. HAL is the longest running league in online racing history!
Hawaii Ace League, a virtual racing community, currently administrated in Dallas, Texas, is a leading community of online racing addicts. Having been founded in December 1995 The Hawaii Ace League is the oldest online fixed-setup racing community. Since early 1996, Hawaii Ace League has provided dynamic racing environments and competitions to its members by leveraging the opportunities of Sierra/Papyrus through both the prototype system code named Hawaii, and the NASCAR(TM) Racing Online Series. Providing core competencies such as a mailing list, season schedules, weekly racing opportunities, and a web site contributes to overall enjoyment and excitement of the league members. Hawaii Ace League believes its series of core competencies, all centered on the league member, allows it to stand as a leader in the virtual online racing community. The following describe the league and its mission:
Hawaii Ace League is focused on providing its members with an enjoyable online racing experience that emulates the real-life Winston Cup Series as closely as possible. Hawaii Ace League maintains consistent communication through its use of an online mailing list. This list is maintained and operated for the sole purpose of providing efficient and effective communication opportunities to the league members. Hawaii Ace League has built its online brand through its web site. The web site is maintained and operated with volunteer labor from the league members. The web site has been in operation since early 1996 and has gone through various changes to maintain its dynamic and formidable presence.
Hawaii Ace League provides the league members with an online racing experience that compares to no other league. The use of carsets so that each member is actually in their own car is a pioneering step that only Hawaii Ace League has mastered. Hawaii Ace League pioneered the steps to provide the league members with shirts, mouse pads, hats, pins, etc. to promote the league a step above the rest. Hawaii Ace League provides a weekly racing experience using FIXED setups, 50% race lengths, realistic damage, cautions, and pace laps. The league is dedicated to the racing experience. There are two (2) seasons per calendar year. Each season has its own champion.
Hawaii Ace League has designed all of these programs with a very high degree of flexibility to fit the league members needs, rather than trying to fit the league member into specific programs. Hawaii Ace League continues to provide its members with opportunities to grow and succeed in the online racing community.
2. OSCAR
Online Stock Car Auto Racing http://planet.ten.net/oscar
The Online Stock Car Auto Racing (OSCAR) series grew out of the ashes of 3 Hawaii (Hawaii being the original beta prototype of the NROS) series - Late Nite with Dave (LNWD), The Night Owls, and Simulated Stock Car Autoracing (SSCA). These series were directed by Dave Sparks, Bill Cranston and Darin Gangi respectively.
While each of the 3 Hawaii series was successful, as Hawaii drew closer to extinction through 1997, active participation in online series racing petered out until, by the end of the summer of '97, LNWD, Night Owls and SSCA had packed it in and joined the masses waiting for the NROS to get up and running.
During this time Sparks, never one to let his gray matter sit idle for long, got the idea of forming a "superseries" for the NROS that would initially be comprised of members from existing Hawaii series. Cranston and Gangi came onboard with their groups of drivers, and from that point the idea for the OSCAR superseries began to take shape. After several months of website development, database programming, and much exchange of ideas and concepts, the OSCAR series developed into what you see before you today. The OSCAR staff is always receptive to constructive criticism and will endeavor to improve the series based upon its members suggestions.
OSCAR is a series that caters to drivers of all skill ranges, facilitating an environment in which a driver can develop his skills and progress to greater challenges in more competitive divisions. However, the overriding goal of OSCAR is to promote a sense of community that will foster good-natured camaraderie amongst the drivers.
3. HGNS
Hawaii Grand National Series
http://www.hgns.org
HGNS, the Cyber Racing Sportscenter 1997 Racing League of the Year, was originally formed in the early days of open beta as a league for newcomers to get into who couldn't get into the existing ones. It has grown from there into the most competitive IROC league with a general knack for heads-up patient driving, and the perfect way to finish the week. Currently run by Mike Ostrow the series is one of the original "Hawaii" race leagues. Following in HAL's footsteps, HGNS has similar rules that mirror that of HAL. HGNS also has a Thursday truck series for beginner and veteran racers.
4. FSS-PRO
http://www.fsspro.com
FSS-Pro is in its 3rd racing season. This IROC league has over 6 racing divisions: WC, BGN, Out-Lawe, Slim-Jimm, Feather-Light, Reb-Coe with 20 Drivers Per Division and over 165 members this is one of the most popular racing leagues on the net. Ed Wernsing is the league commissioner and FSS-Pro has been around since the late days of "Hawaii" in June 1997.
5. Midwest
Midwest is run by Chris Adkins and is currently the second longest running racing series on the net. One of the original "Hawaii" racing leagues.
6. NASS 98
North American Simulation Series
http://www.nasscar.com/
NASS has been around since the dawn of the racing sim game. This group of individuals has both off-line and online racing divisions for NASCAR(TM) 1 and 2. Their online racing divisions are the following: THUNDER98 Online, This is the entry level series for NASS98 online racing. Forced setup racing with a minimum amount of track time and skill level. The series is by invitation only. Watch for signup forms to be posted every so often. LIGHTNING98 Online, This series is the middle ground of NASS98 online. The series features forced setup races, but with much stronger competition than the Thunder98 division. You must be promoted from the Thunder98 series to race here. NASS98 Pro Online, This is a closed series. You must be promoted from the Thunder98 or Lightning '98 series to race here. (Editor's Note- - NASS is the only series to make both Top Ten lists--they must be doing something right!-TK).
7. CNSRL
http://www.city-guide.com/cnsrl/
CNSRL was created back in October of 1996, and has since grown into four racing divisions. The Challenging NASCAR(TM) Simulation Racing League continues to grow and prosper.
8. NIS
http://members.aol.com/shayden742/nis.html
The National Invitational Series is a competitive multi player NASCAR(TM) Racing series founded by Tony Venable in 1996. The league began as a user series on Hawaii but transitioned to TEN in December of 1997. The purpose of this league is to create a clean competitive racing environment which is as accident free as possible. The NIS racing league welcomes any and all drivers who are interested in contributing to such a racing environment. NIS will not limit this series to any particular skill level; however, all racers are held responsible for racing clean and professionally. If a driver is unable or unwilling to abide by these requirements the driver will be reprimanded and even expelled from the series. The 1998 NIS race schedule includes a 35 race program.
9. HTSP
Hawaii Thunder Series
http://www.carillon.net/htshome.asp
Spinning off from "The Mustang Racing League" back in July of 1996, Paul and Mike Carillon created HTS. Their Tuesday night races on "Hawaii" will go down in the history books. Currently HTS is running their continued season on TEN. Another one of the longest running racing leagues online.
10. Late Night With Dave
http://www.sequoia-dev.com/Hawaii/latenite.html
This league is no longer in existence, but has been retired and will be forever remembered in our online racing history books. Dave Sparks closed this league to form OSCAR when NASCAR(TM) 2 went public. Its old web page is still up, stop by and reminisce about the old days of online racing. The Late Night League was formed to provide the maximum amount of realism possible within the constraints of Papyrus' NASCAR(TM)/Hawaii simulation. The league has an extensive rulebook that emphasizes clean, competitive racing. Drivers are expected to spend at least as much time preparing for a race as they do in the race itself. Drivers are expected to be able to control their cars and have a setup that works on more than one line on the track, and to practice driving the different lines. Every driver will be expected to drive in a courteous, professional manner. "Drive like you own the car" - Ken Hower.


---
HOW THEY WERE RATED: (the top ten sim racing leagues were generally ranked as per the following):
USEFUL CONSTRUCTS:
The leagues were ranked according to at least two guiding principles and a list of constructs designed to address the experience of sim racing offline and online. I tried to think of constructs that fit my experience sim racing and that seemed in generalized towards others also. The two principles that guided my thinking sound contradictory in the first case--mainly how realistic does the league simulate the racing experience? The second guiding principle--had to do with ease of access--is the league comprehensible, i.e., easy to understand, rules not overly confusing, signup process easy enough so that you don't have to be a computer programmer to figure it out--etc.--in short is the site easy to get to--and can one figure out how to get started once they get there?
The criteria I used beyond this included the following constructs. It will be helpful to bear these in mind along with their definitions below--to help understand how the leagues were ranked. Basically, the constructs were used to sort of give me a mind's eye profile of the league under consideration. Frankly, some of the league ratings that resulted from this analysis surprised me. Some of the leagues ranked lower than my bias expected--after I took into consideration the total picture--I may have been almost forced to construe a league a certain way. In general, leagues that scored high in terms of visibility, racer friendliness, longevity, number of active drivers, and creative approach--were ranked higher than the newer leagues with fewer racers. Leagues that were difficult to get started with, weren't as tolerant of newbies, or were new on the scene were ranked lower even if they had pronounced positive qualities including high levels of originality and creativity. Longevity and Racer Friendliness were the most important correlates associated with the higher ranked leagues.
Here's a closer look at the various constructs used and their definitions:
Longevity: this construct has to do with how long the league has been operating. Although longevity itself does not automatically prove that a league is a good one--it is often a good indicator of success. In internet racing leagues--it takes a lot for a league to survive. A league that's been around a long time has weathered a lot of storms, probably had its share of controversey on the mailing list while at the same time developing seasoned and fair commissioner(s) who through their increased experience know more about how to resolve things and set things up. Usually leagues that have been around a long time have survived because they are fun and easy to race with, are competitive, and offer some positive qualities that tend to keep drivers coming back season after season.
Racer Friendliness: this construct can make or break a league as far as keeping drivers or attracting new ones. Akin to the notion of user friendliness--racer friendliness has to do with how helpful the league is. Generally stated, I ranked this according to two weights--how helpful the management is and how helpful fellow racers are in the league. Are a new driver's inquiries addressed, how approachable are others, and what is the tone and expectations of the mailing lists? While league management cannot be held accountable for what individual racers say and do--they can intervene when things get out of hand. Also, with this construct I looked at an overall experience of the league in terms of how fun it is to race there. Tolereance of individual differences and styles of expression also played a role in this construct.
Number of active drivers: this construct can say a lot about how good a league is. With that in mind, it should also be stated that popularity is not a guarantor of quality--but even so--a larger group of active drivers usually means that the league has some longevity, is fun to race with, and is able to navigate and tolerate differences between people. This also means that the league may be quick to resolve difficulties that surface. It also hints that the league is easy to use (see next construct). This is not to say the converse--that is, that leagues with fewer drivers are not fun and so on--basically, the smaller leagues may be appealing to a specific type of sim racer and simply may not have the longevity of the bigger leagues. In fact it seems there is a history and evolution of sim racing leagues--namely that the leagues usually struggle for the first year with not many racers, but if they persevere and do a great job there is an effect of growing publicity and more drivers. League start up during the middle of the real NASCAR racing season has also shown an effect of lower turnout of drivers in the initial season. We should also note that there is a slight seasonal effect in some of the leagues--during holiday times, when the school year starts up, and as the season progresses--there is some attrition.
Ease of Use: this construct has to do with the ease of breaking into that league's schedule and running the events there. Are the rules understandable and easy to follow? Is the process for submitting results easy to perform? If the league uses anticheat software--is it easy to use and relatively free of bugs? If the league has official carsets and custom track files are they easy to download and setup? The more difficulties a league has here, the more likely it will repel new drivers. I say this knowing that many leagues are different--and a lot of them ARE worth the trouble of figuring out how to get setup to run the events there. Don't be afraid to ask for help! Still, difficulty with mandatory software and files on a consistent basis can be death to a league. Ease of use in terms of site navigation and site intelligibility also figured in here.
Visibility: this construct has more to do with visual aesthetics than other constructs and also samples the domains of popularity and savoy. A web site that is pleasing to the eye, catches your attention, and appears to be well known on the Net is a league that has high web presence. These leagues in and of themselves may be attractive to sim racers. Does the experience match the appearance? The answer to that question will help to determine whether or not a league stays in business. All flash and no substance will leave racers with an empty experience, while flash with substance is an attractor. I have observed countless occasions when a new league is advertising itself--and first time visitors state they will not race there because it is so chaoatic, unsophisticated, and generally amatuerish in appearance. While that may not be fair to the individuals trying to start such leagues--it does show that this is in reality, one of our constructs--even though it may be the construct most susceptible to superficiality.
Simulated Racing Season: this construct certainly enhances the realism of offline sim racing. It enhances motivation and keeps racers interested also. If sim racers are also racing fans of the real NASCAR(TM)--which is often the case--it is easy to see why the leagues that follow the real season are very popular with drivers. It is fun to watch a race and then race on the simulated track for your next event. NASS had a unique notion back in the primarily N1 days--namely, that each week along with the race settings (which included the actual weather of the real race in the sim event)--one would receive a custom driver's text file that altered the performance of the AI in terms of how the real drivers did in that day's event. It is interesting and fun to race in leagues that mirror the real season--the sim is realistic enough that sometimes you can pick up points for running your sim event from the race announcers!
Unique Features--this is second to the last of the constructs that I used to help make my decisions about how to rank the best sim racing leagues for offline racing. This construct also includes dimensions having to do with originality and creativity. Many sim racers are looking for specialization--some may want to do just short track racing, dirt racing, touring car racing, or just racing with custom carsets. There are leagues out there just for these folks and much more. The IDRS plans next year to be a league which uses nothing but cloned and newly designed tracks--talk about a unique experience! Some leagues have really great utilities that carry realism to new places! For example, The IGN trucks division uses a utility that allows you to run a race with a starting grid based on how the offline competitors actually finished in qualifying! The SSCRA uses edited tracks that present you with not just a mere clone of a simulated track--but a completely new driving experience on a different track that you may have never seen before! Other aspects of unique features include highly individualized rules, custom track and calendar files, and differing divisions so a racer can race at a level he or she is comfortable with (beginners, intermediate, advanced).
Anticheat Measues: our last construct may not be important to some leagues--but it is still a useful construct. Cheating can be a problem for offline racing leagues, and it may be more problematic in offline racing than online racing. If the anticheat measures are easy to use and not easy to circumvent are the most important factors to league success. Many sim racers are disgusted by the cheating that occurs--especially when they note possible trends in results from week to week that may indicate that certain individuals or teams are cheating. However, where it is also problematic is when fingers are pointed at someone--and perhaps unjustifiably so. The first and most proper response initially to suspected cheating is to do nothing--most league commissioners know what to look for in results files that might indicate that cheating has taken place (text editing for example). The next most standard procedure is to report the cheating privately to the league commissioners and not flame someone publicly on the mailing list. Once you report it, give the commissioner space to investigate it. Don't over report and don't cry wolf! Secondly, and most important are the universal procedures that a league has incorporated into its software and/or rules to insure that rules are adequately followed. These can take various forms form submitting results files a certain way, taking screen shots or pictures to show that you ran your face a certain way (while the F key boxes are displayed), etc. Perhaps the best of these is to run an anticheat software package which prevents common cheating techniques to be used ina race. Currently the most popular for offline racing are Raceset (used for both N1 and N2) and a special offline.cfg file that individual series use in N2 racing leagues and events. Whatever your view, anticheat measures can be both a pain at times and a joy--but if so, they are a necessary pain and joy--and can contribute to a league's success. In terms of our rankings on this construct--thorough anticheat measures that were easy to use resulted in higher rankings than anticheat measures that were impractical or caused system problems.
Well, that's it for this issue of Racin' With Tim here at Simulator Cyberworld! Happy Sim Racing!